We have just learned of another situation that we have decided to take on as our second project, and we do need help with this one. This very young birth mom is in the Philippines: three months ago she gave birth to a baby girl named Nixie. Nixie was born with a hemangioma that is significantly affecting one of her eyes. She has been able to get some treatment in the Philippines, and there was a remarkable difference for her after that treatment. However, she will need frequent and ongoing medical care, as well as some MRI's and other possible testing to determine just how deep the effects of her hemangioma reach. Nixie's young mommy has family here in the U.S. who are in the process of bringing the two of them here to live. They will arrive in about three weeks and will probably be residing in the Louisville area. We are working with a contact at Cincinnati Children's Hospital to try to get them connected with the right doctors there, and possibly help them get some financial assistance for Nixie's medical costs. At the moment, TSC is trying to raise funds to help them start their new life here. Their family here in the States is already struggling to get their own life in a new country underway and aren't in a position to provide everything needed now to also help Nixie and her mom. Nixie and her mom will have a place to live, but they will be in immediate need of bottles, clothes, and any and all baby items. Because we aren't sure about sizes or what types of bottles and pacifiers work best for Nixie, we are trying to raise money to purchase gift cards so the family can help choose the things she will need.

You can help by making donations to TSC and designating "Nixie" on the memo line, or by clicking the button below to donate on-line. One hundred percent of your donation will go toward providing for Nixie as she and her mom start their new life here in America, close to family members who can help them remain together.

October 19, 2016


July 26, 2017
Nixie with her cousin: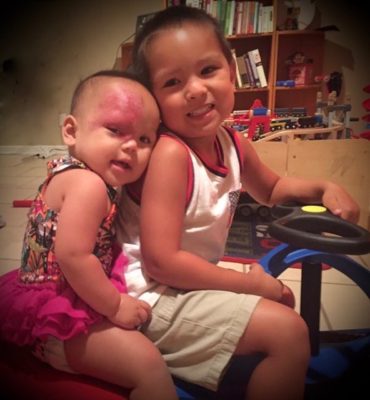 ---
July 12, 2017
Nixie is living here in the US with her mother and her aunt. Her development is age-appropriate, and she is a very smart and happy kid. Over the past few months, she has seen her pediatrician several times, and she has been referred to a couple of other doctors, including a pediatric surgeon for future reconstructive surgery.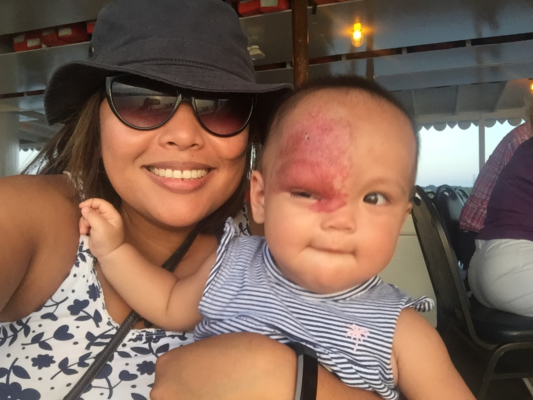 December 2, 2016
Nixie is now here in the US and is getting settled. (See the cute, recent picture below!) Your gifts will help cover the initial medical costs until she can get health insurance. If you'd like to be a part of helping her as she and her mother start their life in the US, you can donate here. Thanks to those of you who have already donated!